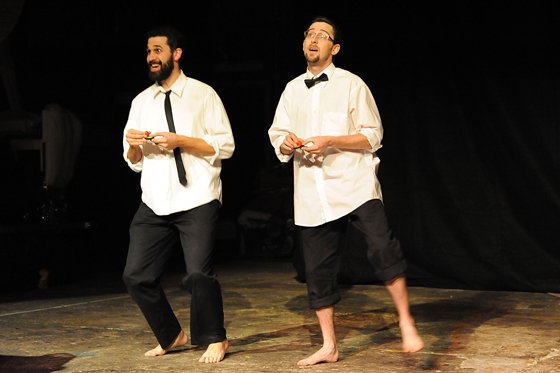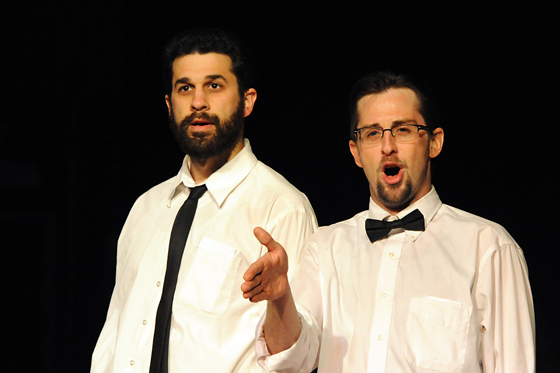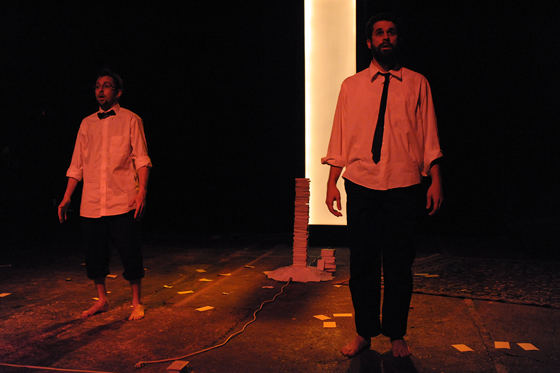 Nov. 14 – 18, 2012
New Orleans Fringe Festival
Den of Muses (Architect St., Lakeside)
Nov. 30 – Dec. 8, 2012
Encore! 5 Fringe Shows Extended
The Art Klub (Michalopoulos Studios – 513 Elysian Fields)
The third piece in GRP's political trilogy (Whatever Just Happened, Didn't Happen and Our Man were the first and second installations), Instant Misunderstanding is an implosive exploration of technological anxieties in a digital age. Past and present collide in a whirlwind of sandwiches, phone conferences, tea, and computer commands as two brothers, Johannes and Johannes Gutenberg, struggle to invent the internet and propel themselves into a confusing and uncertain future.
Instant Misunderstanding is conceived and performed by GRP's William Bowling and Christopher Kaminstein, written by the duo and collaborator Sascha Stanton-Craven, and directed by Andrew Vaught. Photos by Victoria Pisarello.
In February 2014, Instant Misunderstanding was subsequently performed at Marlboro College and Lyndon State College in Vermont as part of Kingdom County Productions' performance season.